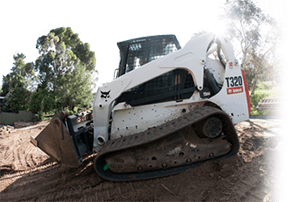 If you have earth that needs to be moved, then Just Bobcats is here for you. From the smallest mound to the most colossal of loads, we have the right equipment for the job. Our huge fleet of excavators feature loaders of all sizes, as well as a variety of attachments to suit every requirement.
All of our bobcats come with drivers, so you don't have to worry about learning to maneuver the equipment. Our drivers are fully qualified and experienced in the use of all sorts of earthmovers, taking one more worry off your shoulders. Bobcats are exclusively rented with a driver.
Never hired a bobcat before?
Then you've come to the right place. We'll guide you through the process so that it's completely fuss-free, and before you know it, you'll be an expert too.
Bobcat hire
With our quick and easy quotes, you'll soon come to realise that Just Bobcats offers the most affordable excavator hire in Adelaide. If you have a lengthy project, we will also give you a discounted rate for long-term hire.
We're able to give you such reasonable prices because of the efficiency of our South Australian owned business, which was established in 1991. Our staff are friendly and reliable, going out of their ways to make sure you have a great experience with us.
With Just Bobcats, site preparation has never been easier. Our equipment is capable of site cutting and levelling, as well as concrete and paving preparations & soil and rubbish removal
Need skip bin in Adelaide? We own and operate
Just Skips
- Just a Skip to the Tip!