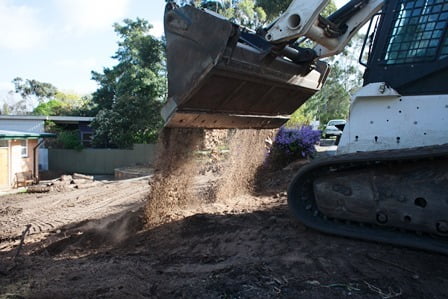 Earth moving services are all the same, right? Well, not exactly. Some places only hire certain models, while others have hidden fees or require you to find your own trained driver. At Just Bobcats all of our earth movers come with drivers, so you don't have to worry about learning to maneuver the equipment.
At Just Bobcats, we don't just offer bobcat hire. We offer support from beginning to end, and even after the process is over, we help you out with special offers and discounts for you and your friends.
We're the one-stop shop for all your earth moving hire services, from small skid steers to massive wheel loaders. All of our trucks are recent models and regularly serviced so you don't have to worry about reliability. And you certainly won't be stuck with machinery after you're done using it, because our prices include a driver, truck and trailer so that anything that needs to be removed can come with us when we leave. We even include dumping fees in our quotes so you don't have to pay extra to get rid of your excess soil or concrete! That's the kind of service we're proud to provide.
If you're still wondering why you'd need a bobcat that comes with a driver, remember that these drivers spend five days a week maneuvering this equipment. They're efficient, safe, and know their vehicles like the backs of their hands. Best of all, it means you don't have to pay to hire your truck for longer than you need, because they know how to get your job done as quickly as possible.
If this sound like something you're looking for, contact us today and we'll provide you with an obligation free quote.
If you have any further questions contact us or take a look through our FAQs.