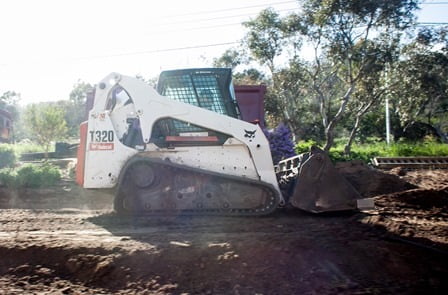 Not sure which bobcat will fit in your premises? We have a range of excavators to fit nearly every need. Measurements of our most popular models are listed below.
These measurements represent just a few of the many types of bobcats sizes we have available. If you're still not sure what you need, we're more than happy to come out to your site and advise you as to what would be best.
To find out about each skid steer's turning circle, talk to our friendly staff. They can guide you as to which loader is best for your site with some information about the site's dimensions.
Compact Track Loader, Model T320
Weight: 5 tonne
Height: 2.06m
Width (with bucket): 2.04m
Bobcat Skid Steer Loader, Model S185
Weight: 3 tonne
Height: 1.94m
Width (with bucket): 1.73m
Caterpillar 914G Wheel Loader
Weight: 7.96 tonne
Height: 3.1m
Width: 2.44m
Compact Excavator, Model 337 (5 tonne Excavator)
Weight: 5.03 tonne
Height: 2.51m
Width: 1.94m
Compact Excavator, Model E80 (8 tonne Excavator)
Weight: 8.48 tonne
Height: 2.64m
Width: 2.31m
If you have any further questions
contact us
or read our
FAQs
page.