Electronic waste – or e-waste – is more prevalent now than ever, especially in an age where we all have phones, laptops and computers. Let's be honest, most of you probably have old mobile phones sitting in a drawer at home or a disused computer taking up space in the study, so why not recycle them? Yas, you heard us: e waste recycling is a thing.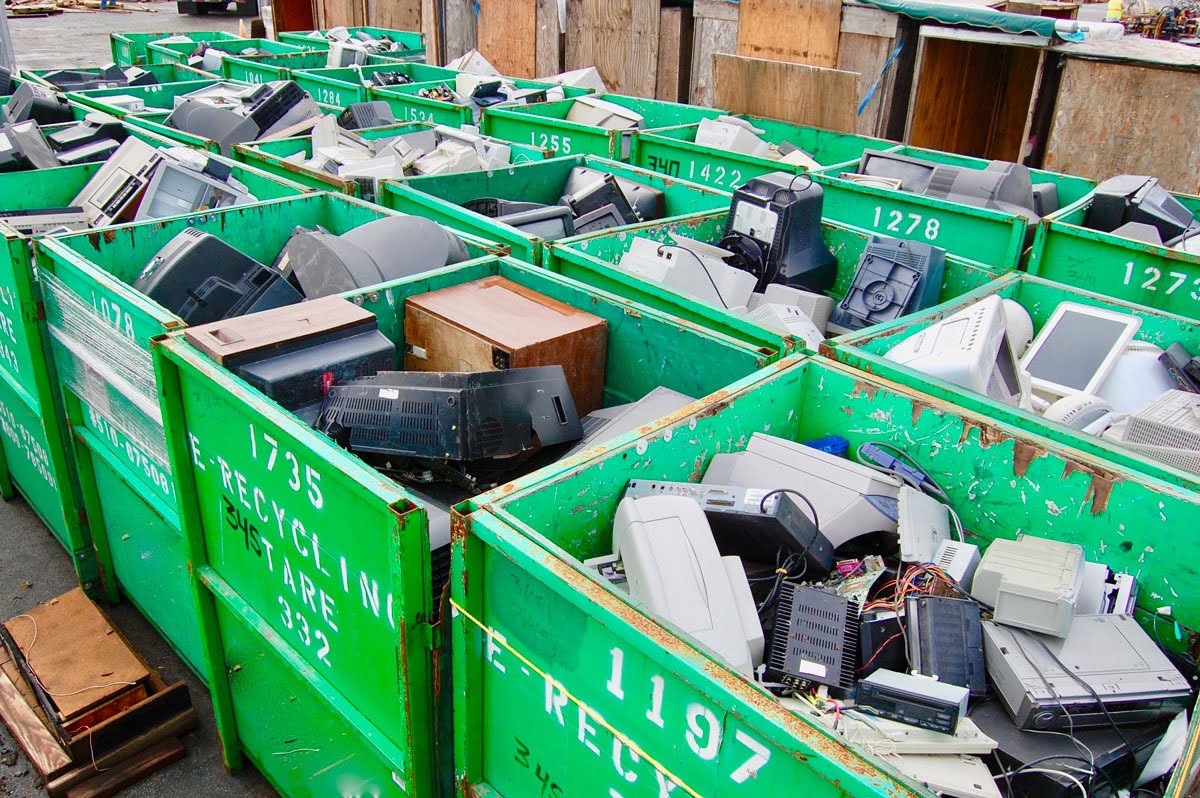 Forget the common misconception that it's just garden waste or plastics and paper that you can recycle. You can also recycle all that unwanted computer equipment and televisions. It's actually illegal to just dispose of them – you'll find that there are very specific rules about how you can throw these items away. Luckily though, many local councils are committed to ensuring that electronic devices are disposed of responsibly and in an environmentally sustainable way at the end of their lives.
So we thought we'd put together a little guide on e waste recycling and why you can't – and shouldn't – just dump your electronics in the bin.
So why can't you just dispose of electronic waste?
While we're all about helping you dispose of waste here at Just Skips, there are very strict rules when it comes to throwing out computers, televisions and other electronic waste. The short answer is that most of these items have hazardous materials in them – think broken glass and plastics as well as metal which might have lead mercury in them that can then end up wrecking our environment.
As with other types of general waste, putting the wrong items into your bin can cause contamination of the whole load. This consequently means that the material that can be recycled might just end up at the landfill instead. Which is definitely the case in Australia where more than 1.5 million televisions and computers are just dumped into landfills.
Also, never just dump your e-waste on the kerb. We've talked about illegal dumping before – it can get you into a lot of trouble and cost you a lot of money. And like we said above, it's illegal to dump certain types of electronics in South Australia. Waste removal services will actually charge additional fees and return your electronic waste to you even after your collection service.
How is e waste recycled?
Nearly 90% of the materials used to make televisions and computers is actually recyclable – which is great news for our technologically-dependent world. People just need to be educated on how it's done and where they can drop off their electronics.
Once collected by the relevant authorities – more on that later – they are often disassembled and reusable materials then sent onto downstream recyclers. The non-renewable resources such as metal, plastic, glass and precious metals can be used in the manufacturing of new items. This reduces the amount of hazardous material we mentioned earlier from ending up in landfill and eventually in our waterways and oceans.
E waste recycling: where can I do it?
Now you know about e waste recycling, you should also know that there are quite a few places to drop off your televisions and computers to ensure that they are properly recycled and repurposed. The National Television and Computer Recycling Scheme offers householders and small business access to free drop off services for televisions and computers. This product stewardship scheme is funded by the television and computer industry to make sure that those electronics we love so much aren't doing damage to the earth at the end of their life cycles.
Most local councils around the country will offer the relevant information about these drop off points. However, for South Australia, you can drop off your e-waste for recycling at the following spots:
Integrated Waste Services
Edinburgh North Resource Recovery Centre
Bunnings
There are also dedicated e waste recycling companies such as TechCollect that have drop off sites around the country – including the Waste Management centres mentioned above as well as convenient retail drop off sites. But in the case that you're still unsure about how and where you can recycle (or dispose of) televisions, computers and other electronics like whitegoods and batteries, check out Recycle Right to see your local recycling options and locations of waste transfer stations.
At Just Skips, we're committed to reducing our carbon footprint so this means that our disposal services focus on sustainability and recycling – not just getting rid of your rubbish. Similar to the e waste recycling process, we take the waste we collect from your skip bins to a licensed waste sorting facility where anything useful will be recovered for reuse. Only then are the non-reusable materials sent to landfills.
If you're hiring a skip and you're unsure about what can and can't go in our waste bins, check our Waste Types page out or contact our friendly team on (08) 8255 6677.