If you've never hired a skip bin before or you're simply looking for skip bin hire Adelaide, you've come to the right place. Hiring a skip bin at Just Skips is easy, cost-effective and completely online.
To help you get started, we've put together this simple guide on how to hire a skip bin. But if you have any questions, please don't hesitate to call us today or check out our FAQs.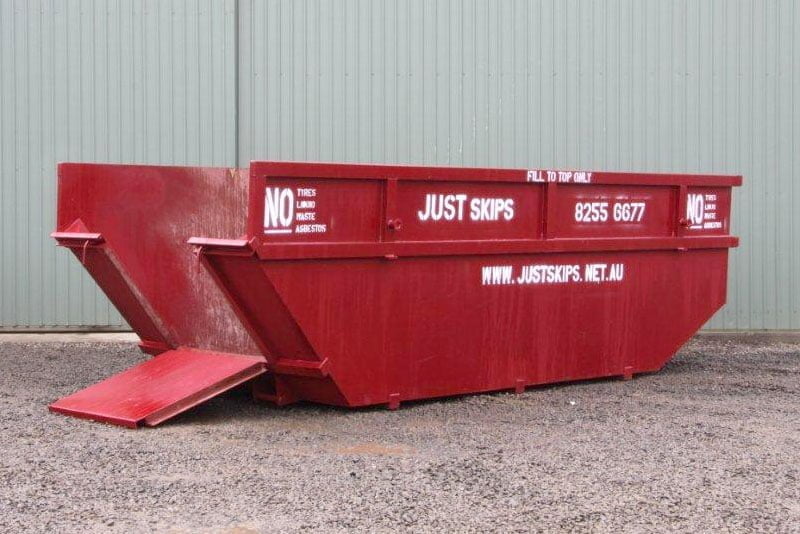 How to hire a skip bin: 7 steps
1. Enter in your suburb
At Just Skips, you can order a skip bin online in just a few minutes. But the first step in how to hire a skip bin is to enter your suburb in our online checkout system. This will confirm we deliver to your area and if there are any additional costs based on your location.
Skip bin hire near me:
2. Pick your bin size
Next, you need to choose the size of your skip bin. We offer skips in the following sizes:
How do you choose the right size? We've put together a handy guide for you. Learn more: what size skip bin do I need?
3. Tell us how long you need the bin for
We offer skip bin hire for 7, 14 and 90 days. If you require it for longer or want it picked up earlier, just let us know.
Learn more: 
4. Choose your waste type
Before we send a skip your way, we need to know what you plan on putting in it. This involves picking your waste type first (i.e. green waste, general, soil, mixed waste), and then the contents of the bin (i.e. mattresses, carpets, plastic, furniture).
We have a number of skip bins that can handle a variety of waste. Learn more about our waste removal services here:
5. Enter in your delivery details
You're right at the finish line. The last step on how to hire a skip bin is to enter in your details for us. This includes:
Your name and email address
Your delivery address
When you wish for the bin to be delivered and picked up*
Where you want the bin to go (i.e. driveway or front garden)
Any special instructions
*You can choose to have your skip delivered or picked up either in the morning (between 7am-12pm), in the afternoon (between 12pm-3pm) or anytime.
6. Pack your skip
As soon as your skip arrives, you can start to get rid of all your unwanted waste. Here are some top tips for packing your skip:
Sort through your rubbish before you pack it into the skip, this will help you maximise valuable space
Don't add in any hazardous materials
Try to avoid air pockets
Don't overfill the skip
Only put in the waste you selected when you hired the skip
What waste cannot go in a skip?
The following is not allowed in any of our skips:
Asbestos
Tyres
Putrescible waste (including food waste, nappies and pet waste)
Liquid waste (including paints, oils, chemicals and thinners)
LPG gas cylinders
Learn more: what can go in a skip bin?
7. The bin is collected
Once your skip hire period is up, Just Skips will come to collect your bin. When you first booked your skip, you would have opted for pick-up in either the morning, afternoon or anytime during the day. If you need to change this, please get in contact with us.
Now you know how to hire a skip bin, what are you waiting for? Get rid of all your unwanted waste quickly, cost-effectively and with less stress. Book a skip bin online today at Just Skips.
How to hire a skip bin FAQs
Can you put old clothes in a skip?
Yes, you can put old clothes in a skip bin. However, you might want to consider donating them to a second hand store if they're still wearable!
How long can I keep a skip on my drive?
You can hire a skip bin from Just Skips and keep it on your drive for 7, 14 or 90 days. You will need to specify how long you need your skip bin for when you hire it.
How much does a skip bin cost?
The cost of a skip bin depends on a number of factors, including: where you live, the waste you need to dispose of, the size of the skip and how long you need it for. When you hire a skip online at Just Skips, you can see how the skip bin hire prices change as you add in more details.
Related blog posts: