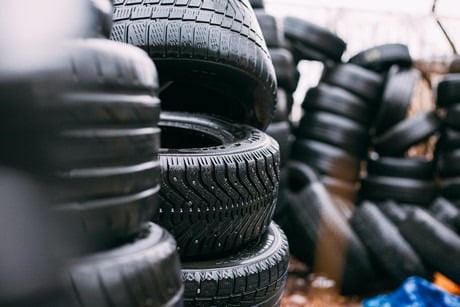 At some point or another, you've probably found yourself with an old car tyre that needs to be thrown out. And if you've got a bunch of other excess waste lying around, it makes sense to just hire a skip and chuck it all in, right? Wrong!
Car tyres are considered hazardous waste, and they need to be disposed of properly and legally. In fact, in Australia, 48 million tyres reach the end of their life, but only 16% are domestically recycled. This means the rest are either taken to landfill, are illegally dumped or are stockpiled – all of which aren't good for the environment. So with all of this in mind, what can you do with old tyres?
Read on to learn how to dispose of car tyres in Australia and discover some unique tyre recycling DIYs.

Overview:
Why are tyres considered hazardous waste?
There are a number of reasons why tyres are considered hazardous, such as:
Tyres are made of a flammable material, so they present a fire danger – especially if they're in a stockpile. Also, if they're burnt, they can release toxic gases.

Stockpiles of tyres can also be ideal breeding grounds for mosquitos and pests.
Can car tyres go in skip bins?
One of the most important things about learning how to dispose of car tyres, is knowing that they cannot go into any skip, including a general waste skip bin. In addition to them being considered hazardous, tyres are made from a non-biodegradable material, so they do not break down in landfills.

Their flexible nature also means they do not stay buried and they take up excess space in landfills. For this reason, many rubbish collection services will not accept tyres.
So, what can you do with your waste tyres? Read on.
A guide on how to dispose of car tyres
If you need to dispose of old car and rubber tyres, the best way is to take them to a tyre recycling facility. This is where tyres can be recycled into new rubber products like brake pads, artificial playground turf, roads and more.

Some tyre service centres will also recycle your tyres when you purchase new ones. You can learn more about this through Tyre Stewardship Australia – a scheme that aims to increase the number of tyres that are recycled in partnership with the Australian government.
5 cool DIY tyre ideas
When it comes to understanding how to dispose of car tyres, you're not limited to just taking them to a recycling centre. With a little bit of DIY, you can turn scrap tyres into planters, ottomans, chairs and much more.

Here's our top list of DIYs:
1. Garden planters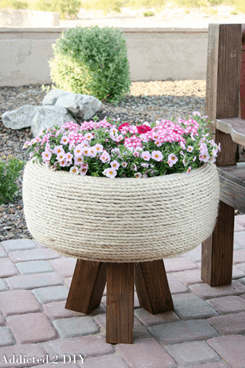 2. Rustic ottomon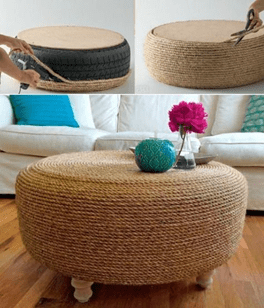 3. Side table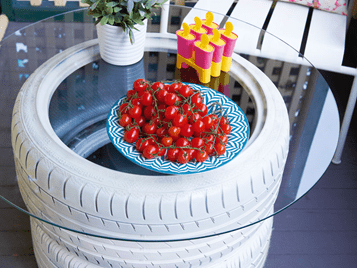 4. Seats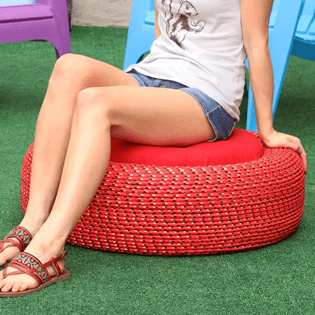 5.

Dog bed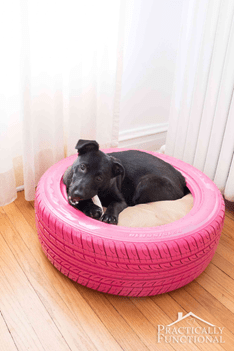 —-
At Just Skips, we care about the environment – which is why all of the waste from our skip bins is taken to a licensed waste sorting facility where useful materials are recovered for reuse.
Learn more: environmental skip hire
If you've been busy on the weekend with some house renovations or landscaping, and found yourself with some excess waste, we're here to help! We have various sizes and skip bin hire prices – from mini skips starting at 4m3 to 9m3 skip bins. You can also opt for either short term skip hire or long term skip hire. Hire online using our online form or speak to our friendly team.
People also read: