If you're a construction contractor, you know how hard it can be dealing with the waste when you're on the job. Old flooring, glass, ceramic tiles, bricks and concrete waste can clutter up the site and become a safety hazard. These days, it's important to keep your Adelaide building site clean and tidy. There's always more waste than what you planned and it's a pain to dispose of. But Just Skips has the ultimate solution for Adelaide demolition and construction waste removal.
How can you cost-effectively and responsibly take care of your construction rubbish removal? The answer's easy…
Construction & building skip hire
Hiring a skip bin for your construction junk removal is a low cost and quick way to remove construction debris, renovation waste, or to clear up after a demolition project. We serve the majority of Adelaide suburb and have the following sizes:
Check our skip bin prices page for more information about builders skip hire costs.
Construction skip bin hire with Just Skips is easy, just follow these steps:
Just Skips will bring your skip bin to the site
Load it up with the construction and demolition rubbish as you go
We'll return to collect it on the day you nominated at the time of booking
What types of construction waste do we handle?
Our construction waste removal services are a great way to tackle your next building project easily. Before you use our commercial skip bin hire service, we recommend that you double-check that your waste materials are suitable.
There are many different types of waste when it comes to construction waste removal. The following can be loaded in our construction skip bins:
Ceramic floor tiles and roof tiles
Plasterboard
Roofing materials
Carpet
Knowing what waste type you need to get rid of is an important part of the safe waste removal process. If you're unsure, don't hesitate to get in contact with us and we can clarify questions or queries regarding how to pack your skip.
Construction waste removal & management
According to the Australian Government, building waste contributes up to 40 per cent of Australia's landfill – so try your best to be environmentally friendly by minimising what you throw away.
Hazardous waste
Please be extremely careful when it comes to dealing with hazardous waste. Lead-based paint and asbestos are particularly challenging in this regard.
Hazardous waste generated by a construction site will, in most instances, require special transport to a particular treatment, storage, or disposal site. Read all about the different types of rubbish and how to correctly dispose of potentially hazardous materials on our waste types page.
White-card accredited drivers
Our white-card accredited drivers know the hazards of your workplace as well as you do, so you can trust us to safely enter and exit your worksite. We take the stress out of your construction waste removal, which means  you can focus on the work.
So do you require rubbish removal services? As the most trusted Adelaide rubbish removal company, we're dedicated to helping with your building and construction waste removal. And if you're a home renovator, a keen DIY landscape gardener or you're just looking to get rid of some extra garden waste, we can help you too. Give us a call today on (08) 8255 6677 to organise your commercial waste skip hire.
*Metropolitan area. *Conditions apply. Please refer to the Terms of Sale for full details.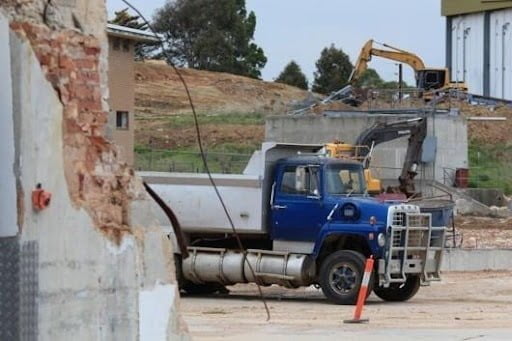 Related Blog Posts:
Do I need a permit for a skip bin?
Whether or not you need a permit to hire a skip anywhere in Adelaide will generally hinge on one question: where are you planning to put it?
How much are skip bins to hire?
Skip prices depend on a number of factors. To help you out, we've created this short guide so you can choose the right skip bin for you and your project.
Mistakes people make when hiring a skip
Whether you've hired a skip bin before, have just placed your order, or are simply thinking about it, here are some common mistakes to consider and keep in mind.
Where to dispose of dirt and rocks
How do you prepare for your dirt and rock disposal? Where will all that dirt go? To help, we've put together a simple set of guidelines that will make it crystal clear.
Four of the best ways to get rid of old furniture that you may not have thought of, that will make the best use of your time and money.
Choosing your skip: a visual guide
Follow this simple visual guide to skip sizes and capacities so you can hire the best-sized skip for you and your project.