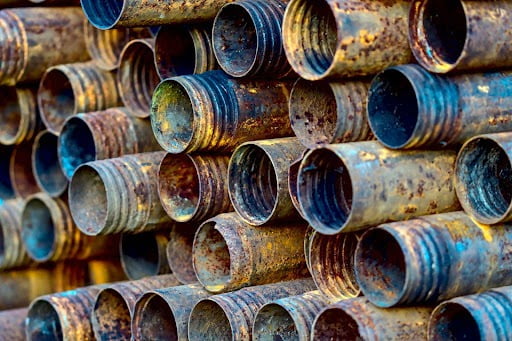 Have excess metal waste on your construction site? Redoing your chicken coop at home and need to discard your old fencing? Hiring a skip bin is the easiest, most efficient and cost-effective way to dispose of metal scraps. Learn how you can use skip bins for metal waste disposal today. And if you have any questions about metal waste management, please get in touch with our friendly and knowledgeable team.
Skip hire for metal waste disposal
At Just Skips, we service the entire Adelaide metropolitan area and our skip bin sizes range from 4m3 to 9m3. You can dispose of a wide range of metal waste in our skip bins, including:
Metal paint cans (if they're dry)
Chicken wire
Iron sheets
Other scrap metal
When you book a general waste skip bin, you can also dispose of the following:
Boxes
Timber
Furniture
Whitegoods
Fibreglass
Gyprock
Glass/mirrors
Electrical appliances (eg. vacuum cleaners, DVD players, lamps. Excludes TVs & computer equipment)
Clothes
Toys
Carpet
Green waste
Paint cans(if they are dry)
Metal waste( e.g. chicken wire, iron sheets)
Carpet
Plasterboard
Please note: you cannot dispose of LPG gas bottles or fire extinguishers
How to book a skip bin for metal waste disposal
Booking a skip bin for metal waste disposal is easy. Just follow these simple steps:
Order your skip bin online

Enter in your suburb
Choose a skip bin size and then choose 'general waste' as your waste type
Choose a delivery time

Wait for your skip bin to arrive
Fill it up with your metal waste and any other general waste (but make sure that it is filled no further than the top and the rubbish is kept entirely within the bin)
Just Skips will come and collect it on your nominated day
Metal waste removal cost
To hire a skip bin for 7 days, prices start from:
$250 for a 4m3 skip bin
$350 for a 6m3 skip bin
$450 for a 9m3 skip bin
If you need the skip bin for less or more time, you can also opt for short term skip hire or long term skip hire.
If you have any questions, please contact us on (08) 8255 6677 and we can give you an accurate quote.
Metal waste disposal FAQs
What is done with metal waste?
Non ferrous metal (that has steel or iron in it) is shredded and then melted down in furnaces at high temperatures to create new blocks or sheets of metal.
Is metal a recyclable waste?
Most metals are recyclable. This includes steel, aluminium, copper, silver, brass and even gold – all of which can be repeatedly recycled without their properties being altered. On the other hand, metals like mercury or lead cannot be recycled because it is too dangerous to do so.
Can I put metal in the general waste bin?
You can dispose of some types of metal in your general waste bin or in your recycling bin. This includes:
Metal buckets
Cans and metal lids
Non-ferrous metals (aluminium, copper, tin, nickel and lead)
However, you cannot dispose of large pieces of metal – you'll need to use a skip bin instead. Find out more: Which Bin?