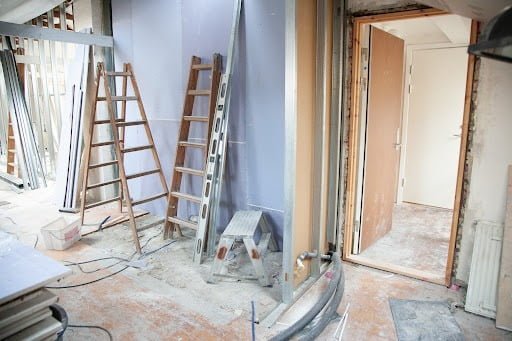 Are you an Adelaide homeowner who is knee-deep in a renovation project and are unsure what to do with the waste? For more than a decade, we've been helping home renovators with their building and renovation waste removal with our cost efficient skip bin hire services.
So if you're planning on remodelling your outdated en-suite, expanding your kitchen or making those much needed changes to your outdoor patio, you can count on Just Skips' fantastic service in renovation waste removal.
Renovation waste removal made easy
At Just Skips, you'll discover a prompt, reliable and friendly renovation waste removal service. No matter your need, Just Skips will be your go-to skip hire for house clearances and other projects (both big and small).
How does hiring a renovation waste skip bin work?
We know how stressful renovating can be, so we've made sure our domestic waste skip hire process is as easy as possible. Hiring a skip bin from just Skips is made up of the following steps:
Just Skips will bring your skip bin to the site
Load it up with your renovation waste as you go
Choose between short term skip hire and long term skip hire
We'll come and collect the renovation bin on the day you've nominated
It's that simple!
Skip bin sizes
Hiring a skip bin at Just Skips is an easy and stress-free way of getting rid of excess renovation waste or building materials.
Our skip bins come in three convenient sizes:
Mini (4m3)
Regular (6m3)
Large (9m3)
Need help determining which size you need? You can get in contact with one of our friendly team members or you can refer to our guide: what size skip bin do I need?
Our skip bin prices also start at just $250 for up to a week.
What can go in the renovation waste skip bin?
There are many different types of waste when it comes to renovation waste removal. The following can be loaded in our renovation skip bins:
Ceramic floor tiles and roof tiles
Plasterboard
Roofing materials
Carpet
What can't go in the renovation waste skip bin?
Please note, there are certain types of waste that cannot go in our skip bins. Please see our waste types page for more information or get in touch with us.
Reliable local waste removal services
Just Skips is dedicated to providing Adelaide locals and businesses with a variety of waste disposal services. Got excess building waste, such as tiles, concrete or soil? You can trust Just Skips' for all your construction waste removal needs. You can also hire our skip bins for longer than the standard 7 days, making them ideal for any construction project.
We also offer garden waste removal and landscape waste removal collection services for all of you green thumbs out there.
Not only do we service the whole of the Adelaide metropolitan area, but we try to recycle as much of your waste as possible. All waste products are taken to a licensed facility for sorting, and any reusable material is separated and recycled – which is what makes us one of the most highly recommended Adelaide rubbish removal services.
Hire a skip bin for all your renovation waste removal needs at Just Skips today. You can order one online by contacting our friendly team on 8255 6677 or through our online contact form.
*Metropolitan area. *Conditions apply. Please refer to the Terms of Sale for full details.
Related Blog Posts:
How much are skip bins to hire?
Skip prices depend on a number of factors. To help you out, we've created this short guide so you can choose the right skip bin for you and your project.
Preparing your home for painting in 3 steps
Do your walls need a new look? Before you whip out your paintbrush, it's always a good idea to complete these 3 steps first to make sure you're really ready to paint.
Household clean ups: what can go in a skip bin?
Clean ups are inevitable for homeowners, which is why knowing what can go in a skip bin is a handy piece of knowledge to have. Read on.
Choosing your skip: a visual guide
Follow this simple visual guide to skip sizes and capacities so you can hire the best-sized skip for you and your project.
Where to dispose of dirt and rocks
How do you prepare for your dirt and rock disposal? Where will all that dirt go? To help, we've put together a simple set of guidelines that will make it crystal clear.
How to dispose of broken glass safely
Want to learn how to dispose of broken glass? Read on for our top tips and an explanation of the different types of glass.