If you're an Adelaide homeowner who loves nothing more than sinking their heart, mind and soul into a good DIY home renovation project, we'd love to hear from you. For more than a decade we've been helping home renovators with their renovation, building and construction waste removal with our cost efficient skip bin hire services. 
So if you're planning on remodelling your outdated en-suite, expanding your kitchen or making those much needed changes to your outdoor patio, you're going to need a construction waste removal plan.
If you're a construction or DIY veteran, you know full well that there's always an unwelcome by-product of any renovation: building material waste. All of a sudden old flooring, glass, ceramic tiles, brick and concrete are cluttering up your backyard (and disturbing the neighbours). The amount of waste always ends up being more than you planned and it can be a pain to dispose of. However rest assured, because Just Skips is the ultimate solution to construction and demolition waste removal.
So how can you cost-effectively and responsibly take care of your construction waste removal?
Hire a Skip Bin
Hiring a skip bin for your construction waste removal is a low cost and time efficient way to get rid of your DIY debris, renovation waste and clearing up after a construction project. We have a variety of sizes, including mini skip bins for small renovation projects. All you have to do is book online, load it up with your renovation rubbish and building site waste, and wait for us to collect it.
Our convenient and professional rubbish construction waste removal services are a great way to tackle your building or renovation project efficiently. However, remember to double check and make sure that your waste is appropriate for our bins. 
There are many different types of waste when it comes to renovation and construction waste removal. We accept the following to be loaded in our construction waste bins:
Ceramic floor tiles and roof tiles

Plasterboard

Roofing materials

Carpet
Identifying your waste type is an important part of the safe waste removal process so please don't hesitate to get in contact with us if you have any questions or queries regarding how to pack your skip.
Construction Waste Removal & Management
According to the Australian Government building waste contributes up to 40 per cent of Australia's landfill, so try your best to minimise what you throw away.
Plus, please be extremely careful when it comes to dealing with hazardous waste. Lead-based paint and asbestos are particularly challenging in this regard.
Hazardous waste generated by a DIY construction site or home renovation project will in most instances require special transport to a particular treatment, storage, or disposal site. Read all about the different types of rubbish and how to correctly dispose of potentially hazardous materials on our waste types page. 
So do you require rubbish removal services? As the best Adelaide rubbish removal company, we're dedicated to help with your renovation, building and construction waste removal. No matter whether you're a home renovator, a keen DIY landscape gardener or you're just looking to get rid of some general construction waste, give us call today on (08) 8255 6677 to organise your skip bin hire.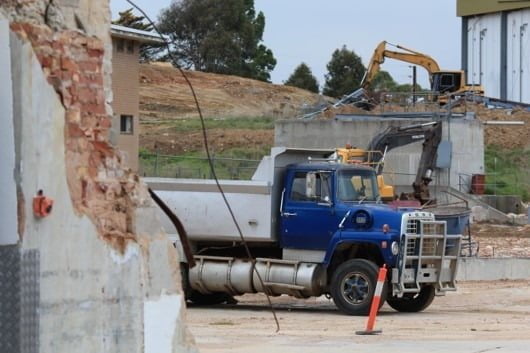 Related Blog Posts:
What is zero waste & how do you start living a zero waste life?
A zero waste lifestyle is a sustainable way of life that helps keep our planet clean. Find out why it's important & how you can easily start with our top tips.
Do I need a permit for a skip bin?
Whether or not you need a permit to hire a skip anywhere in Adelaide will generally hinge on one question: where are you planning to put it?
How to have a successful garage sale
Ever wondered how to have a successful garage sale? Read our yard sale guide for the hottest garage sale tips & make some money!
Are you looking for tips to pack your rubbish skip? Skip hire is a cost effective & hassle-free way to dispose of rubbish without taking a trip to the tip.